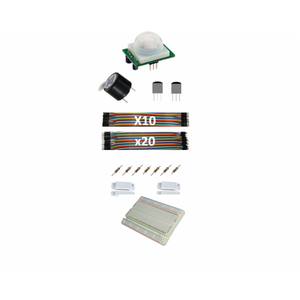 DIY Alarm Kit - Motion sensor, door contacts, temperature, buzzer siren
Regular price $26.95 Sale
DIY Home Alarm Kit for Raspberry Pi 
Kit includes:
1 Motion Sensor

2 Door sensor switches

20 male/male jumper wires

10 male/female jumper wires

Solderless Breadboard 400 Tie Points

8 resistors (3x10kOHM, 4x1kOHM, 1x4.7kOHM)

1 DS18B20 Dallas 1 wire digital temperature sensor

1 Active Buzzer (2,500 hz 3-5V)

PN2222A Switching transistor
Kit excludes, but the PrivateEyePi project requires:
A RaspberryPi, model A or B (visit http://www.raspberrypi.org for more details)

Power supply for the RaspberryPi

SD memory card for the power RaspberryPi

Internet access to the Raspberry Pi (either via network cable or Wifi dongle, not included)
Tutorial
The detailed project tutorial can be found at http://www.projects.privateeyepi.com/home/home-alarm-system-project 
Alarm features:
Connect door contacts or PIR sensors (motion sensors) to the Raspberry Pi.

Receive email alerts when an alarm occurs.

Monitor your home from your smart phone or computer using the dashboard featuring zone status (armed/disarmed/alarm), alarm dates and time as well as activity logs. You can also use the dashboard to arm and disarm zones.

Monitor your home temperature from your dashboard.

Skill level for the PrivateEyePi project
Basic low voltage electronic skills. We will provide you with a full inventory of electronic parts and diagrams. We will show you breadboard wiring schematics for you to copy.

Basic Raspberry Pi and Linux experience. No programming or electronics experience required, no soldering. You can also use our blog to ask questions or email our support email.