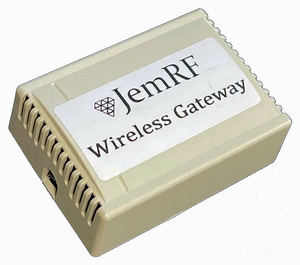 WiFi Wireless Gateway
Regular price $49.99 Sale
The WiFi Wireless Gateway receives messages from the Wireless sensors and sends them to the PrivateEyePi or JemRF Monitor server.
The WiFi Wireless Gateway has a built in MQTT Agent that can publish sensor values to a MQTT Broker providing a wide range on custom applications.
The Wireless Gateway eliminates the need for a Raspberry PI to receive data from the Wireless (RF) Sensors. 
Simple firmware update button to automatically download and install firmware updates.
The Wireless Gateway is in the same physical case as the current WiFi IoT Sensor and uses the same simple configuration process. 
Has a mini-USB connector for power.

Comes with mini-USB cable.

Provides the option to convert Celsius to Fahrenheit.
 The Wireless Gateway does not issue commands to the Wireless RF Sensors.
Installation:
The best result is to mount on the wall with the power cord down, but not against a metal wall, that will greatly reduce the WiFi range.
Follow the 3 easy steps using our

 

illustrated guide

Specs:
Dimensions 74mm x 55mm x 28mm
Powered either by USB Mini cable (4.5V DC to 7V DC input) or battery connection (2.5V to 3.5V) via the 2 pin battery connection plug

-34C to +52C. Fahrenheit equivalent is -30F to +125.6F, ±0.5°C accuracy from -10°C to +52°C

Can be programmed using Arduino or LUA development environments